Welcome to this RHKK web site!

The Ryukyu Hon Kenpo Kobujutsu Federation was the one and only organization that was recognized by Daisensei Seikichi Odo, Hanshi. Enjoy your visit to these pages dedicated to Daisensei Odo and his school of Okinawa Kenpo: Ryukyu Hon Kenpo Kobujutsu.
This web page is inactive and only maintained as a historical record and memorial to Odo Daisensei.
Master Seikichi Odo died at 10:48 AM, March 24, 2002.

Our memories, respect and love will always continue for our teacher and friend.
SHORT HISTORY OF THE RHKKF
The RHKKF has its origin back through the Okinawa Kenpo Karate Kobudo Federation and then the Okinawa Kenpo Karate Kobudo Association that was formed By Seikichi Odo Daisensei with Seijiro Maehara Sensei, Kenko Chibana Sensei and others back in the early 1970's when the original All Okinawa Kenpo Karate-do League was resolved.
The Ryukyu Hon Kenpo Federation was the ONLY legitimate organization of karate taught by Seikichi Odo from 1997 until his death on March 24, 2002.
Master Odo had intended for his eldest son, Seijun Odo to succeed him as Master of Ryukyu Hon Kenpo Kobujyutsu. Unfortunately Seijun passed away before his father. Master Seikichi Odo died without designating a successor. Master Odo is survived by his wife, Yoshiko Odo, second oldest son, Susumu Odo and third son Itsumo Odo.

KO BU
***********************************
The Ryukyu Hon Kenpo Kobujyutsu Federation is no longer a functioning organization. It members have gone in various different directions. Many are now members of the Ryukyu Hon Kenpo Kobujyutsu Association. https://ryukyuhonkenpo.wixsite.com/website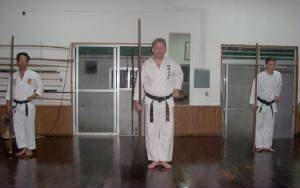 Agena dojo July 2005
*The RHKKF, web master and web page do not have control over advertisements displayed by tripod. We do not endorse any that may appear on these pages.*